Making homemade jam in small batches is a small (and easy!) pleasure during the spring and summer growing seasons. This maple rhubarb jam is lightly sweetened with maple syrup, and has a gentle warming note of ground cardamom. Like many traditional jam recipes, this maple rhubarb jam recipe is made with pectin. The recipe yields about ¾ of a cup.

Rhubarb Season Requires Rhubarb Recipes!
Right now gardens around the city are ablaze with bright yellow star-shaped daffodils. Magnolia tree branches are heavy with blooms about to burst open, and rhubarb is FINALLY ready! Other harbingers of spring – fiddleheads, nettles, and radishes – are starting to pop up at markets but really, it's the rhubarb we've been waiting for.
RELATED RECIPE: Rhubarb Simple Syrup
A Small-Batch Rhubarb Jam Recipe
I developed a small-batch rhubarb jam recipe with Port and vanilla bean a few years ago. It was great, but let's get real, who can afford vanilla beans these days? I have never posted that recipe, but I still use it as a working template for my small-batch homemade jam recipes each year. We love small batch jam in our house because you can swap out fruits and other flavours throughout the spring and summer to suit your mood. And isn't it so lovely to have a jar of homemade jam in the fridge?
RELATED RECIPE: Maple Peach Whisky Jam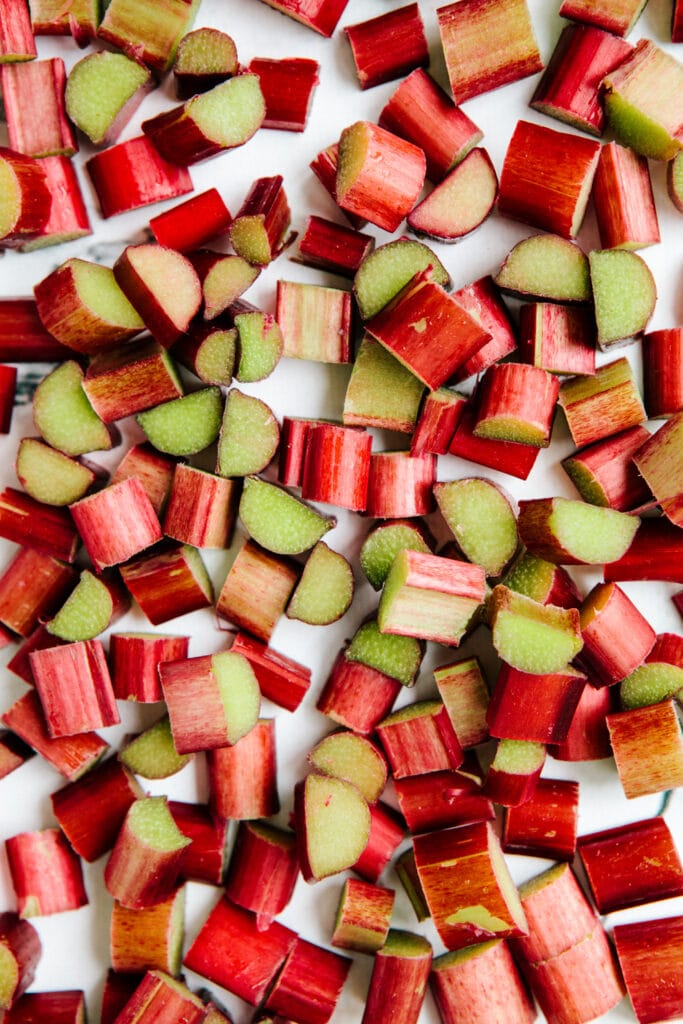 Can I Substitute Frozen Rhubarb For Fresh Rhubarb?
I haven't tested this maple rhubarb jam recipe with frozen rhubarb but I can't see why frozen rhubarb wouldn't work. A friend invited me to her house to cut as much fresh rhubarb as I like so I'll probably chop and freeze enough to cook and bake with throughout the summer and fall. Wouldn't it be so nice to give small jars of maple rhubarb jam as Christmas gifts?
RELATED RECIPE: Rhubarb Curd Pudding Cups
What Is Pectin?
In simple terms, pectin is a natural starchy fiber found in the cells of many fruits and vegetables. Commercially available pectin powders and liquids are used as a thickening agent (mostly for jams, jellies, and marmalades) and can usually be found in the baking aisle of the grocery store.
Do I Need Pectin To Make Maple Rhubarb Jam?
I've made small-batch homemade jams without pectin, allowing my fruit mixture to simmer until thick and most liquid is gone. I've also tried making homemade jam with apple juice as an ingredient since apples are naturally high in pectin and help thicken your jam. Both methods yielded tasty results, however, neither had the gooey consistency that a spoonful of pectin provides to homemade jam.
RELATED RECIPE: Rhubarb Fool
Print Recipe
Maple Rhubarb Jam With Cardamom
A simple, spring inspired, small-batch rhubarb jam lightly sweetened with maple syrup with a gentle warming note of ground cardamom.
Ingredients
2

cups

rhubarb

chopped

½

cup

maple syrup

2

tablespoons

lemon juice

1

tablespoon

powdered pectin

Pinch

of kosher salt

¼ to ½

teaspoon

ground cardamom
Instructions
Place chopped rhubarb, maple syrup, lemon juice, powdered pectin, and kosher salt in a medium-sized pot. Bring to a boil over high heat and allow to boil 1 to 2 minutes.

Reduce heat to medium-low and simmer with lively bubbles for 20 minutes, stirring occasionally.

Remove from heat and stir in ¼ teaspoon of cardamom. Cool jam in pot then adjust cardamom to suit your taste, adding more if you like.

Spoon cooled maple rhubarb jam into a jar with a tight fitting lid and keep in the fridge for up to one week.
Did you make this recipe? I would love to see how you made out! Let me know on Instagram by tagging me @baconandbaileys and hashtag it #baconandbaileys so I can take a peek and re-share it in my Instagram stories! You can also find me on Facebook, Twitter, and Pinterest.